Los maestros nos visitan: Torres-García, Figari, Gurvich
Our gallery has always been very close to Uruguay.
Over the years, we have presented several times the works of Joaquin Torres-Garcia, their most international artist, as well as the one of his disciples, in exhibitions such as El Taller Torres-García or the different solo exhibitions dedicated to José Gurvich, Alceu Ribeiro or Augusto Torres.
Occasionally, we have also had the pleasure of showing the works of some of their other internationally known artists such as Rafael Barradas or Pedro Figari in exhibitions like the one we dedicated to them alongside Torres-Garcia in 1995. On that occasion we could see about 15 pieces of each artist, a selection of drawings, watercolors and canvases of each of them.
Regarding contemporary art, we also have shown a great interest on the artists of the cono sur: artists such as Juan de Andrés, the sculptor Pablo Bruera or Mauricio Sbarbaro are proof of our interest in Uruguay's current artistic scene.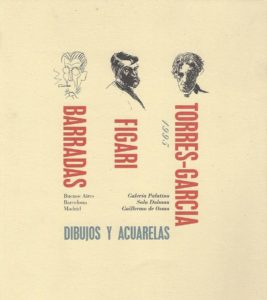 Cover of the catalogue "Barradas, Figari, Torres-García".
On September 14th three exhibitions will open in Montevideo under the title "Los maestros se visitan" (The masters visit each other). This will allow seeing the works of Torres-García, Figari and Gurvich. Each artist will present his work in the other's museum, therefore, the Museo Torres-Garcia will gather Pedro Figari, focusing in the sketches he and his son Juan Carlos did with the idea of creating a series of objects for daily use in the countryside and the city. On the other hand, the Museo Gurvich will offer a unique chance to see together the drawings and sketches that Torres-Garcia did for his book "La ciudad sin nombre" (The city without name). Lastly, the Museo Figari will present the work of José Gurvich in a show that will feature a selection of drawings centered in the city, not only Montevideo, but also New York and the European cities he visited during his short life.
It's an unbeatable occasion to get closer to the art of these three masters, as all the exhibitions will include works and documents unseen that make this event a mandatory visit for anyone in Montevideo.