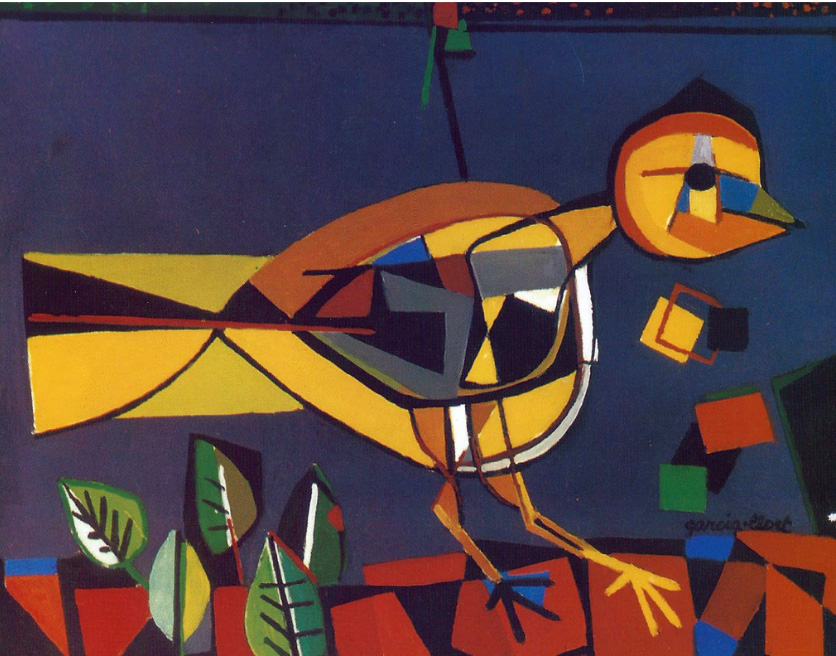 In the centenary of the birth of Garcia-Llort
In the centenary of the birth of Garcia-Llort.
Today is the centenary of the birth of Garcia-Llort, one of the artists that has had a closer link to our gallery.
Our friendship with Josep Marian goes back to years before the opening of Sala Dalmau, when the founder of the gallery, Francesc Draper, organized an itinerant exhibition of his work through Uniarte group that was seen in Madrid, Barcelona and Majorca. That was the begging of a friendship that lasted up until his passing in August 2003.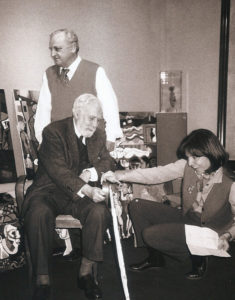 Francesc Draper (standing), Garcia-Llort and Mariana Draper, Sala Dalmau, 1997.
During his younger years, Garcia-Llort's life was plagued by illness, the Spanish Civil War and his religious education. Tuberculosis forced him to be in a sanitarium for a few months, but it also helped his artistic vocation as he could draw extensively, war left terrible memories on himself as well as on a whole generation and the strict, rigid religious teachings on Spain's post war disturbed him and had a deep impact on his future painting.
After studying at the Massana School, the FAD and the Sant Lluc Artistic Circle, in 1950 he obtains a grant from the French government that allows him to complete his studies in Paris.
In Paris he feels freedom in the air, something unknown to him, and discovers the avantgardes, although what would cause a greater impact on him is to see the works of Rouault and Chagall. He also met the aquarellist Martha Crockett who will become his inseparable wife and with whom he will leave to the USA with the intention of settling there.
The couple will go to the south of the USA, to Pineville, Louisiana. There his work will receive a great impact: they live on a swampy zone with a flora and a fauna that will take to another level his personal bestiary that already populated his paintings. In those years he will exhibit in New York and will see by himself abstract expressionism, but always against the grain, he will be much more interested in the works of Stuart Davis.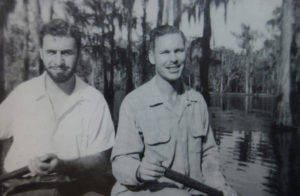 Josep Maria Garcia-Llort and Gerald Stanley , Hog Lake, Louisiana, 1955.
In 1959, after his father's death, the Garcia-Llorts decide to settle in Barcelona definitely, keeping in touch with the USA and Paris.
The friendship between Garcia-Llort goes back to the 1970s, but it won't ne until the late 1980s that he joins our group of artists, exhibiting with us until his passing in 2003.
Despite he experienced closely all the avantgardes of the 20th Century, Garcia-LLort always followed his own path, often against trends. His work is heavily influenced by the Romanic glass windows and by German expressionism and his themes have kept recurrent through his career: animal, whom he appreciates more than human, and a satirical vision of a society that keeps looking with skepticism.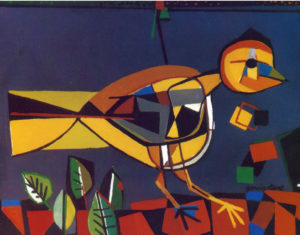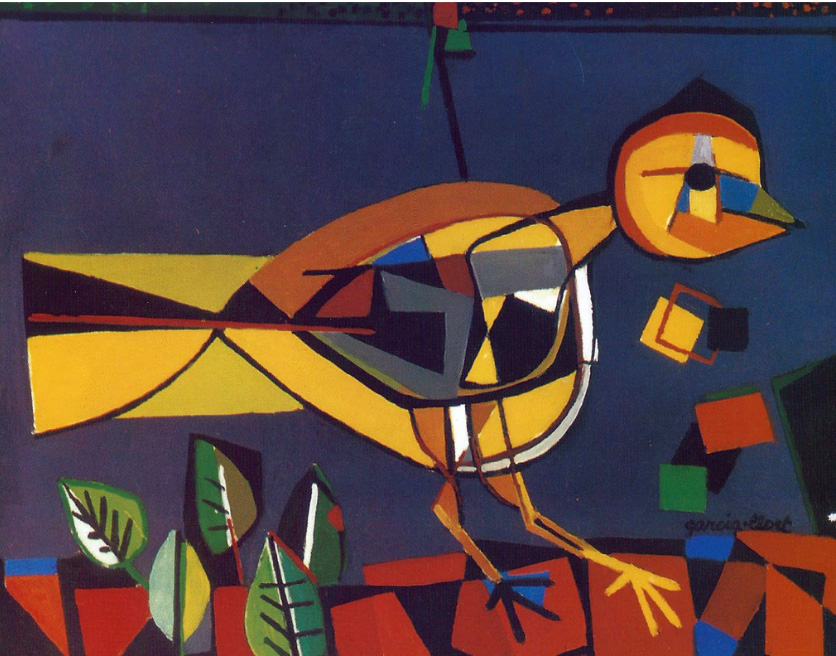 Josep Maria Garcia-Llort "Yellow bird" (c.1980) 65 x 81 cm. oil on canvas-
In the centenary of the birth of Garcia-Llort we want to remember this honest, fun, generous man, a great conversationist, a gentleman from another time that always amused us with anecdotes of his travels, the stories behind his paintings or his personal attitude towards life.